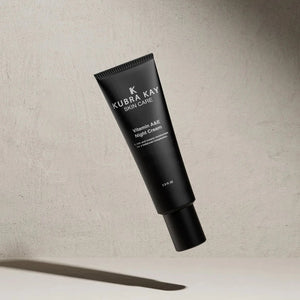 Rich and creamy moisturizer for a balanced, clear complexion.
Buildable hydrating moisturizer -  Oily-Normal Skin Type  -  2 oz - 
What is it: A moisturizer that instantly balances skin and improves the texture and health of your skin.
Why It's Special:
Our A&E Night cream contains properties that aid in strengthening the skin's natural moisture barrier while reducing oily skin activity
Vitamin A contains retinoids which are proven to combat signs of aging
Vitamin E contains healing properties that repair and restore damaged skin
It contains glycolic acid, which improves the texture of the skin 
Turmeric helps reduce any acne scarring, hyperpigmentation, and discoloration
Great For:
Reducing the appearance of pores 
Improving texture and tone 
Hyperpigmentation/ Discoloration 
Reducing acne / Acne Marks 
Balancing oily skin 
Good to know: Fragrance-free, paraben- free, vegan, cruelty- free, non- comedogenic, good for sensitive skin 
Ingredients: Myrrh, Orange oil,  Macadamia, Turmeric, Myrrh De-ionised water, Glycerin, Isopropyl Myristate, Vegetable Stearic Acid, Benzyl Alcohol, Fragrance-Free 
Jevon - Esthetician | ⭐️⭐️⭐️⭐️⭐️
"
I love the Kubra Kay A&E night cream. It is thick, hydrating, and never makes me feel oily. I wake up with dewy, hydrated skin. Plus it smells so fresh and clean!"